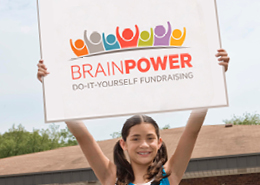 Set Up Your Own 2019 BRAINPOWER Fundraising Page
You can make your own personal fundraising page in memory or in honor of a loved one to raise money to support the mission of the Brain Aneurysm Foundation.
BrainPOWER members use the power of giving to make a real difference in the lives of those affected by brain aneurysms. No matter how you choose to get involved, as a BrainPOWER member, you'll be empowering the vital work of the Brain Aneurysm Foundation and helping to bring more education and awareness, support and research focused on reducing the incidence of brain aneurysm ruptures.
Being part of the BrainPOWER campaign makes fundraising easy and fun and there are unlimited opportunities to make a real difference. As part of the funraising initiative, you can turn your next marathon, golf tournament, walk, or other event into an opportunity to support the work of the Brain Aneurysm Foundation.
Be a part of the team that will cross the finish line in the race to reduce brain aneurysm ruptures. BrainPOWER members inspire action in others by participating in a variety of different physical challenges including walking, biking, running, swimming and more.
BrainPOWER members all over are planning fundraising events or participating in athletic events in support of brain aneurysm awareness and research. No matter what you choose to do, and it does not need to be an athletic event, we're available to help and support you. Need some ideas to get started, visit our
Event Planning Guide
.
You can get started setting up your own BrainPower page or to find a page already created by clicking the button below.
Get Started
To search for a BrainPower page from 2018 click
here
To search for a BrainPower page from 2017 or prior click
here
For any questions or assistance in starting a fundraising activity, please 
send us a message
.