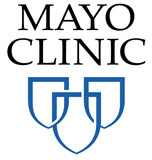 Providing support for brain aneurysm patients, survivors, caregivers, family and friends.
Where
Mayo Clinic
St. Mary's Campus
Francis Building Ground Level Room 22
1216 2nd Street SW
Rochester, MN 55905
Join us for an ongoing supportive and educational setting to discuss recovery topics and learn about helpful resources. These meetings will also provide an opportunity for reassurance and personal exchange.
Details
The group meets the first Thursday of every month from 5:00 – 6:00pm
Light refreshments will be provided
Note: Meeting room is located across the hall from Employee Cafeteria. Don't pay attention to the Staff Only signs on outside door and hallway. If lost, ask any employee/desk where the Employee Cafeteria is and they can direct you.
For additional information please contact the group facilitators:
Roanna Vine, RN BSN at (507)255-2058 or email vine.roanna@mayo.edu
Mark Markham at (507)284-5317
2020 Meeting Dates
First Thursday of every month from 5:00 – 6:00pm
January 2 – No Meeting
February 6
March 5
April 2 – Meeting Cancelled
May 7
June 4
July 2
August 6
September 3
October 1
November 5
December 3