Rehabilitation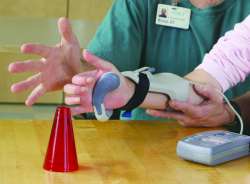 Choosing a rehabilitation facility, especially after a serious event, can be a stressful process. That's why it's so important to learn what resources are available and to have the courage to ask questions. Getting answers to key questions will help patients and caregivers find the best resource to achieve optimal outcomes for recovery and to cope with their new situation.
Choosing the right rehabilitation facility can make a difference in how fully – and how quickly – the patient is able to resume his or her activities. It is highly recommend that you tour each facility you are considering. Talking with the admissions director and other staff will give you a better sense of the environment of care – and it will allow you to ask about specific areas of expertise. The facility's website often provides extensive information about programs, services, physicians and other specialized resources as well. In a time of stress, it will be much easier for the primary caretaker to find an appropriate facility as close to the caretaker's home as possible to minimize drive time as much as possible.
How to Choose a Rehabilitation Facility: 20 Questions to Ask
The following questions can help you compare the services offered by different rehabilitation facilities.
Accreditations, Quality
Is the facility affiliated with any major hospitals?
Is the facility accredited?
Does the facility have a formal way to monitor quality of care?
Is the facility clean and well maintained?
Specialized Programs
Does the facility specialize in rehabilitation care?
Does the facility offer specialized programs?
Does the facility have the specialized resources to enhance its medical, nursing and rehabilitation care?
Physicians and Nurses
Does the facility have a medical staff that is trained in rehabilitation?
Does the facility have a physician present at all times?
Are the nurses qualified to care for patients who need rehabilitation?
Are there enough nurses to provide high quality care to every patient?
Therapy Services
Does the facility offer specialized therapies?
Does the facility also offer outpatient physician and therapy services?
How much therapy do patients receive?
Team Approach to Care
Does the staff work as a team?
Are other specialists available if needed?
How is the treatment plan developed?
Who plans for the patient's discharge and handles insurance questions?
What happens if the family needs instruction about how to care for the patient after discharge?
How would you describe the staff?
Hospital rehabilitation
Mild-to-severe cognitive, behavioral and physical symptoms require specialized care in an acute rehabilitation hospital. Typically, the rehabilitation team consists of a lead doctor specializing in neurological rehabilitation, a case manager, a rehabilitation nurse, a social worker, along with physical, occupational and speech therapists. The patient's rehabilitation team works with the patient to facilitate safe walking, personal care skills, basic communication and problem solving skills. Hospital stays usually last 10-20 days, depending how the patient progresses toward independence. The rehabilitation team works closely with the family, providing education about the recovery process and preparing the patient and caregivers for the transition home.
Home rehabilitation
This setting is best for patients who have transitioned back to their homes but need almost round-the-clock assistance. The patient's team of caregivers develops strategies for managing home-related tasks, including safety and personal care. The goal is to help the patient begin to resume normal activities.
Outpatient rehabilitation
Patients graduate to this level of care when they are ready to resume typical daily tasks. The outpatient rehabilitation team, much like the hospital and home rehabilitation team, consists of a lead doctor and physical, occupational and speech therapists. Their focus is to help the patient resume real-life activities such as driving, shopping, returning to work and leisure activities. This level of care refocuses the patient on regaining the skills to resume his/her former roles.
Alternative Therapies
Alternative therapies include yoga, acupuncture, massage therapy, EEG biofeedback, and hydrotherapy. Some patients find that these alternative therapies help in the healing process.