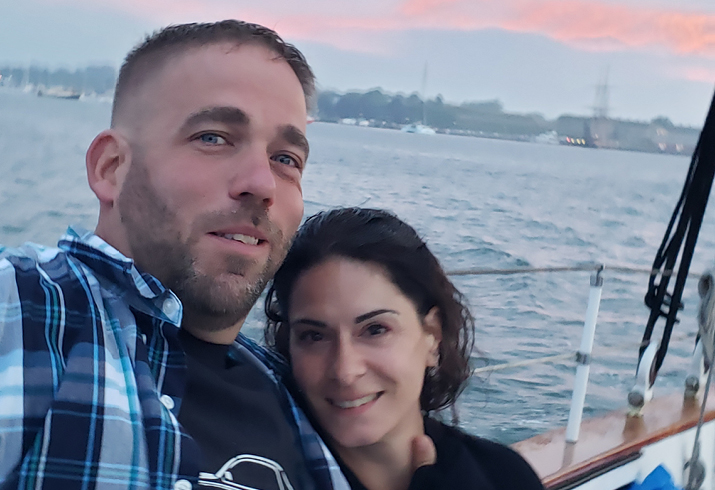 May 5, 2016, started like any other day for Scott Kimball of Massachusetts. He went to work driving a heavy-duty wrecker and had a pretty normal day, until about 4pm. Just as Scott was arriving at his destination to pick up a vehicle that was broken down, he was struck with the worst headache of his life and temporarily lost his vision. Thankfully he had just pulled into a parking lot and was able to stop driving, set the brakes and put his head on the steering wheel all while wondering what was going on. Luckily the driver of the broken-down vehicle noticed that something was wrong and called 911.
Scott was taken to the local hospital where they discovered that he had suffered a brain aneurysm rupture and then was sent to Massachusetts General Hospital (MGH) in Boston. There, Scott was treated by a team headed up by Dr. Aman Patel. After receiving a coiling procedure Scott spent the next few weeks in the Neuro ICU. Needless to say, Scott credits the team at MGH for saving his life!
While sharing his story with the Brain Aneurysm Foundation, Scott wanted to note that at the time of his rupture, he weighed just under 500 pounds and had high blood pressure, which he is sure contributed to his rupture. He decided right then that he needed to do something about it. He knew he had to push through the fatigue, depression and thoughts of "why me?".
In August of 2016, Scott found himself back at MGH having gastric sleeve surgery with the blessing of his doctors. Scott is thankful for his family and friends for the support they provided through not one, but two life changing events. Scott's neurologist signed off on his return to full duty work on October 1, 2016, noting how lucky he was to have survived with no neurological deficits.
As of today, Scott has lost close to 200 pounds, continues to strive at the job that he loves and says he has never felt better. Scott shares his story hoping it will help others questioning their own personal struggles with recovery.

"It has been an uphill fight that no one really knows how deep you have to dig to move forward, but as long as you push and have people to help push, it makes all the difference."
-Scott Kimball