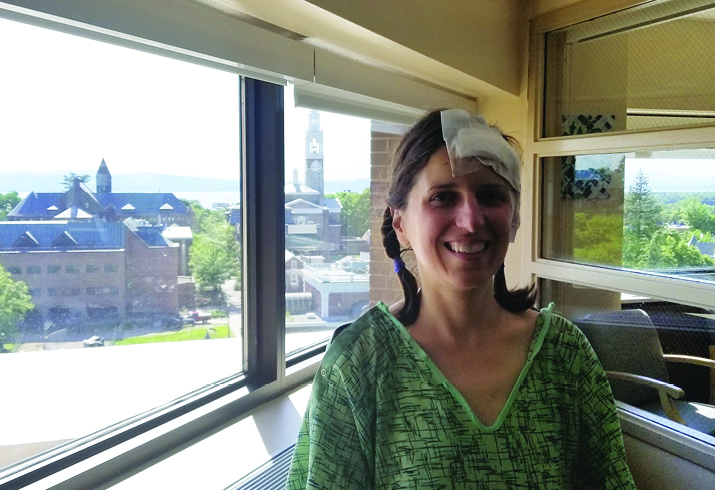 In March, 2018 I had just turned 40, and went to the doctor for a routine physical. I mentioned that every month I would get terrible headaches behind my left eye and pain relievers wouldn't help. I had assumed it was hormonal, but when I told my doctor my grandmother had a brain aneurysm he ordered an MRI just to be sure. A few days later, I got the call that I had a 4mm aneurysm on my left  Middle Carotid Artery (MCA). A CT Angiogram and a Cerebral Angiogram identified the shape and location of the aneurysm.
The procedure to clip the aneurysm was very invasive and risky. It was my choice of whether to have it or not. It was incredibly daunting, but with two young sons, age 3 and 6 at the time, there was no way I was comfortable with the possibility of a rupture that could leave them without a mother. Before I made my choice, I had one of the most meaningful conversations of my life with neurosurgeon Dr. Bruce Tranmer of the UVM Medical Center who answered all my questions and secured my trust in him.
Luckily the surgery went well. Dr Tranmer was truly a gift from God… he saved my life! I did not have any significant permanent cognitive damage. My sons were at my side throughout the whole process. They taught me about life and love, made me so proud, and helped me pull through.
Ultimately, I feel a great sense of responsibility for my good fortune. I feel I owe it to those who passed away because of aneurysms or suffered permanent damage to raise awareness and encourage research to improve outcomes. I struggled a lot with survivors guilt and always felt like I could be doing more. I was so excited to hear about the BAF Arterial Challenge because it gave me a way to get involved, raise awareness, meet other survivors, and honor those who were not as lucky as I was. I am so grateful to the BAF for creating such a meaningful event that was a big part of my emotional healing. This experience has cemented for me that we are all connected and that small acts of kindness are everything. We are all in this together.