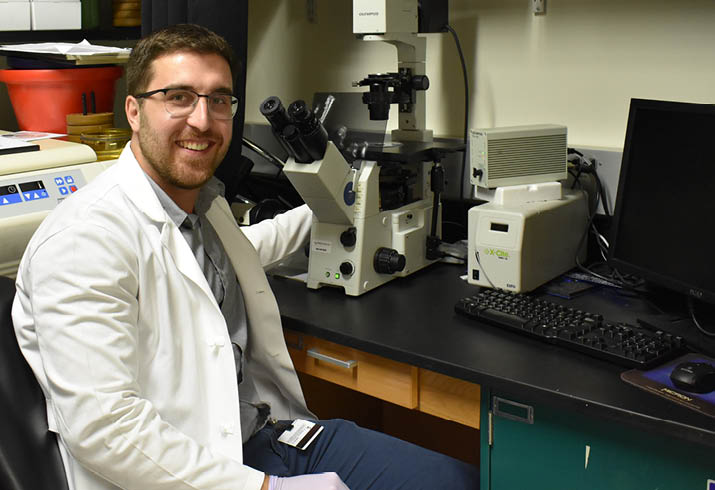 Will Dodd is an MD/PhD student at the University of Florida, where he studies cerebrovascular disease, particularly intracranial aneurysms and aneurysmal subarachnoid hemorrhage. He is a fourth year MD/PhD student in Dr. Brian Hoh's lab at the University of Florida. Dodd attended both Rutgers University and the University of Florida as an undergraduate during which he found his passion for biomedical research. He hopes to one day become a clinician-scientist working towards translating exciting new scientific discoveries into improved patient care.
He became involved with brain aneurysm research because in the first two years of medical school, Dodd became fascinated with both the brain and the cardiovascular system. After a lecture on brain aneurysms, he saw it was possible to combine his two biggest interests and decided to talk with Dr. Brian Hoh about working in his lab.
Dodd is the recipient of the Terry A. Kersting Chair of Research for $20,000 and Ryuta Sanui Chair of Research for $25,000. They have identified a protein they believe is involved in the formation and rupture of brain aneurysms. They plan to use a chemical compound to inhibit the activity of this protein and measure its effect when given to mice with brain aneurysms. They hope that their study lays the groundwork for safe and effective medical treatments that can prevent the rupture of brain aneurysms. Dodd believes it is important to educate both providers and patients on the lasting impact of ruptured brain aneurysms.
When not in the lab, he can usually be found at the gym or watching nature documentaries on Netflix. He enjoys hiking on local hiking trails at the crack of dawn. His newest passion is cooking and although he's still learning, he has watched enough episodes of Chopped to give him a sense of confidence.
Best of luck to Will in his research!