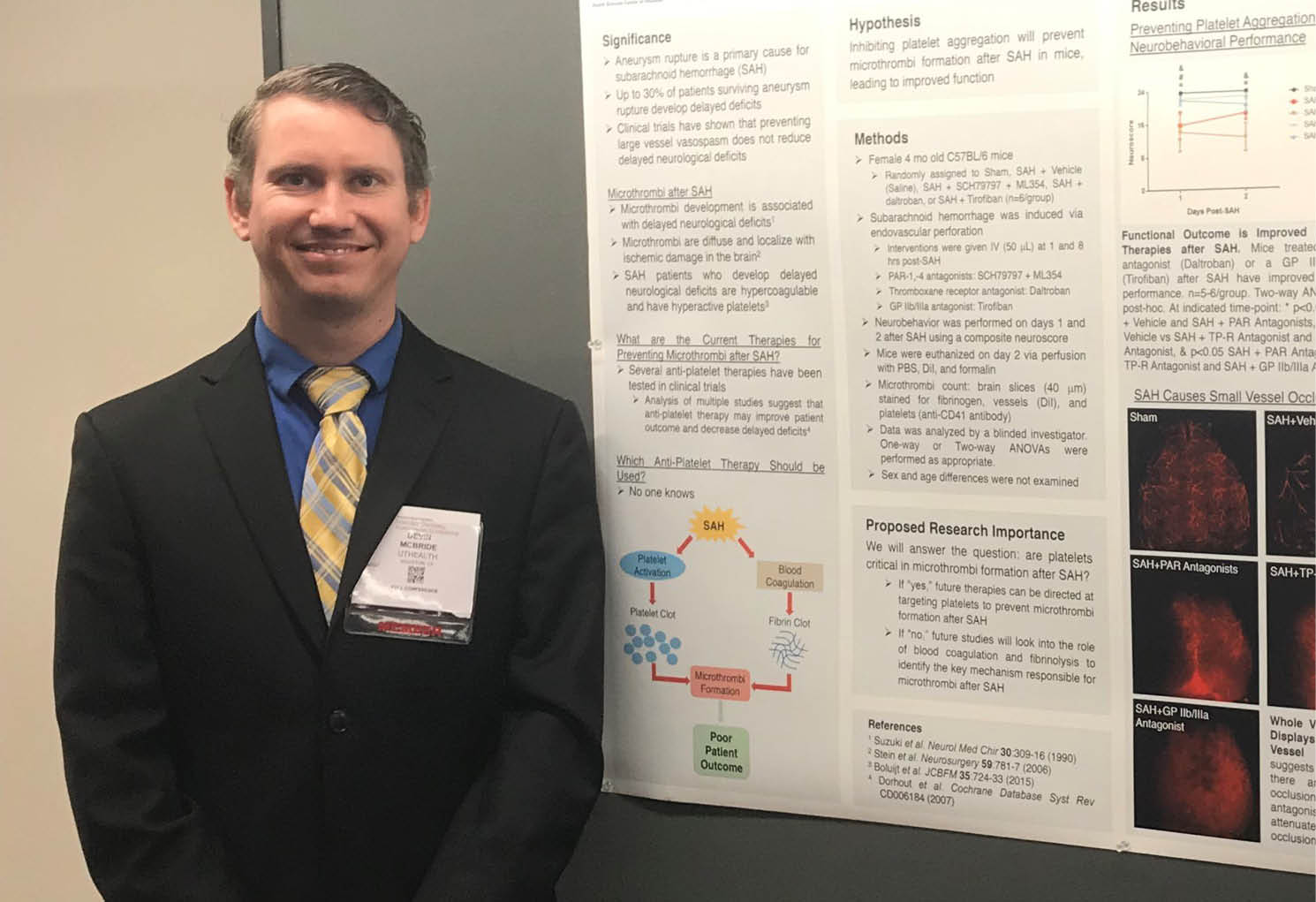 Dr. McBride received his Ph.D. from the University of California Riverside under the mentorship of Dr. Victor G. J. Rodgers where his research focused on understanding the phenomena of crowded protein osmotic pressure and its applications to medical devices.
His postdoctoral training occurred under the guidance of Dr. John H. Zhang at Loma Linda University where he studied translational neuroscience research with an emphasis on cerebrovascular disease. In 2017, Dr. McBride joined the Vivian L. Smith Department of Neurosurgery as an Assistant Professor where he has been investigating the potential therapeutic benefits of preventing micro-clots after subarachnoid hemorrhage.
McBride's postdoctoral training in translation research related to cerebrovascular disease lead him to become interested in secondary injuries following stroke. He transitioned into the field of brain aneurysm and subarachnoid hemorrhage when he began his faculty appointment at UTHealth. McBride is intrigued by the secondary injury after subarachnoid hemorrhage and is utilizing his expertise to uncouple the mechanisms of delayed injury after subarachnoid hemorrhage, as well as investigate novel treatments.
McBride is the recipient of Running Against Ruptures – Bob Wood Chair of Research for $10,000. Sam's Spirit Chair of Research for $10,000 and Danielle Guzman Chair of Research for $10,000. The purpose of his project is to investigate the role of platelets in micro-clots after subarachnoid hemorrhage. Micro-clots are thought to be a major driving force of the delayed injury and poor outcome after subarachnoid hemorrhage, so understanding the mechanisms for the formation of micro-clots will identify therapeutic targets.
In his spare time, McBride enjoys spending time outdoors with his family. They enjoy hiking, camping and fishing.
Good luck to Devin in his research!