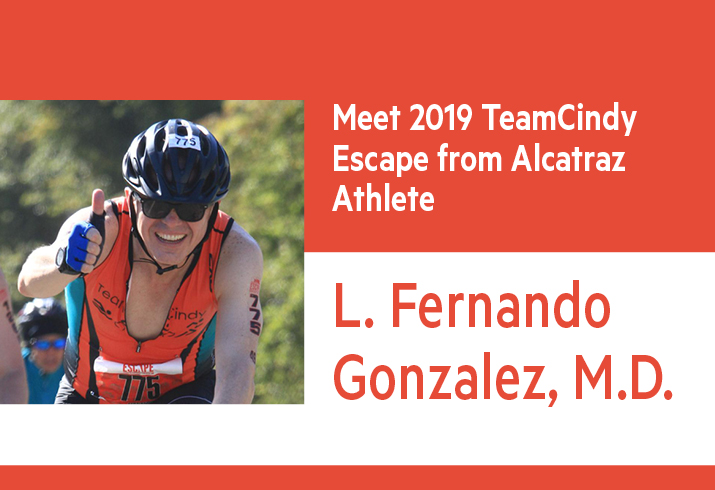 Where are you from, and what is your triathlon experience?
I was born in Bogota, Colombia where I grew up. Lived in Brazil for 2 years during elementary school, unfortunately not fluent in Portuguese anymore however still understand a lot. I've been actively running and cycling for about 20 years. Swimming is the hardest part for me…Always was allured by triathlons but only 3 years ago started, so far have completed 2 Olympic distances (Philadelphia and DC) and last year Escaped from Alcatraz with Team Cindy.
Tell us…Why TeamCindy? What does the Brain Aneurysm Foundation cause mean to you?
As a vascular neurosurgeon, I see patients with aneurysms every day, during this time I've seen thousands of patients and families affected by aneurysms. I had the privilege to treat hundreds of aneurysm patients and I have been involved with BAF for almost 10 years, participating in support groups and have witnessed first-hand BAF's efforts to raise awareness and support research. Personally, I was the recipient of one their grants few years ago. Heard about TeamCindy, from Cindy's mom at a research event. Cindy's story is very compelling, and thought it was a great initiative and wanted to engage by racing with an amazing team which every member has in common is an aneurysm story .
What are you most excited about, and most nervous about for the 2019 Escape from Alcatraz Triathlon?
Excited, the thrill and the energy just before the race. Nervous, about the cold water… I hate cold water.
A fun fact about me is…
I love to cook… and eat with friends and family!